Tableau Novice to Best In Class Dashboards in 4 weeks Bootcamp
This Bootcamp lasts for 4 weeks and has weekly activities and exercises designed to help you succeed.
We have also included video's that were recorded live from our Beta program that will also further your learning. The interaction and questions from the Beta have ensured that this Online-Only course covers all of the most common issues that may be encountered.
You will receive weekly updates advising you of which material will be released to you in that week, as well as progress updates detailing which content you should aim to complete in that week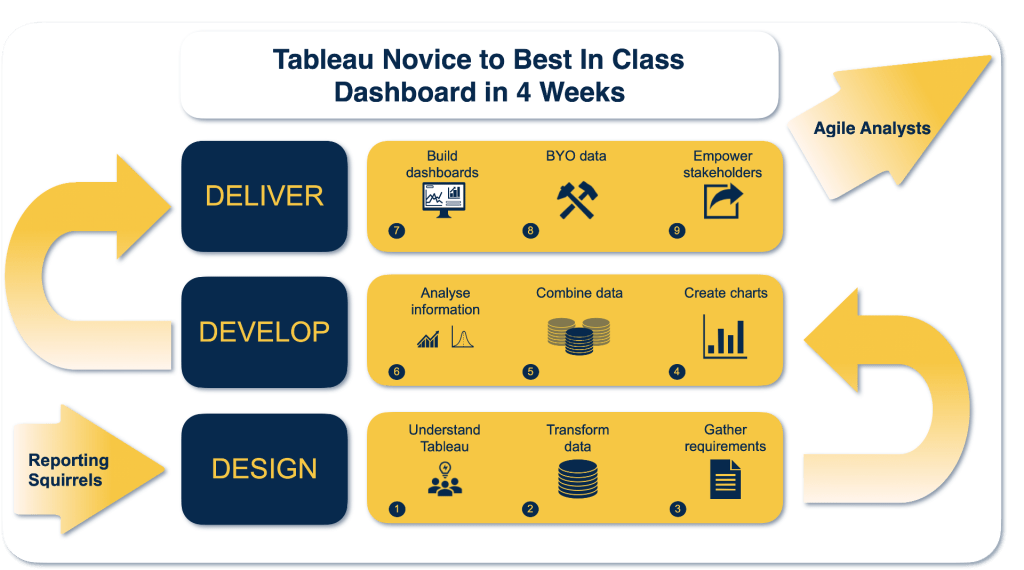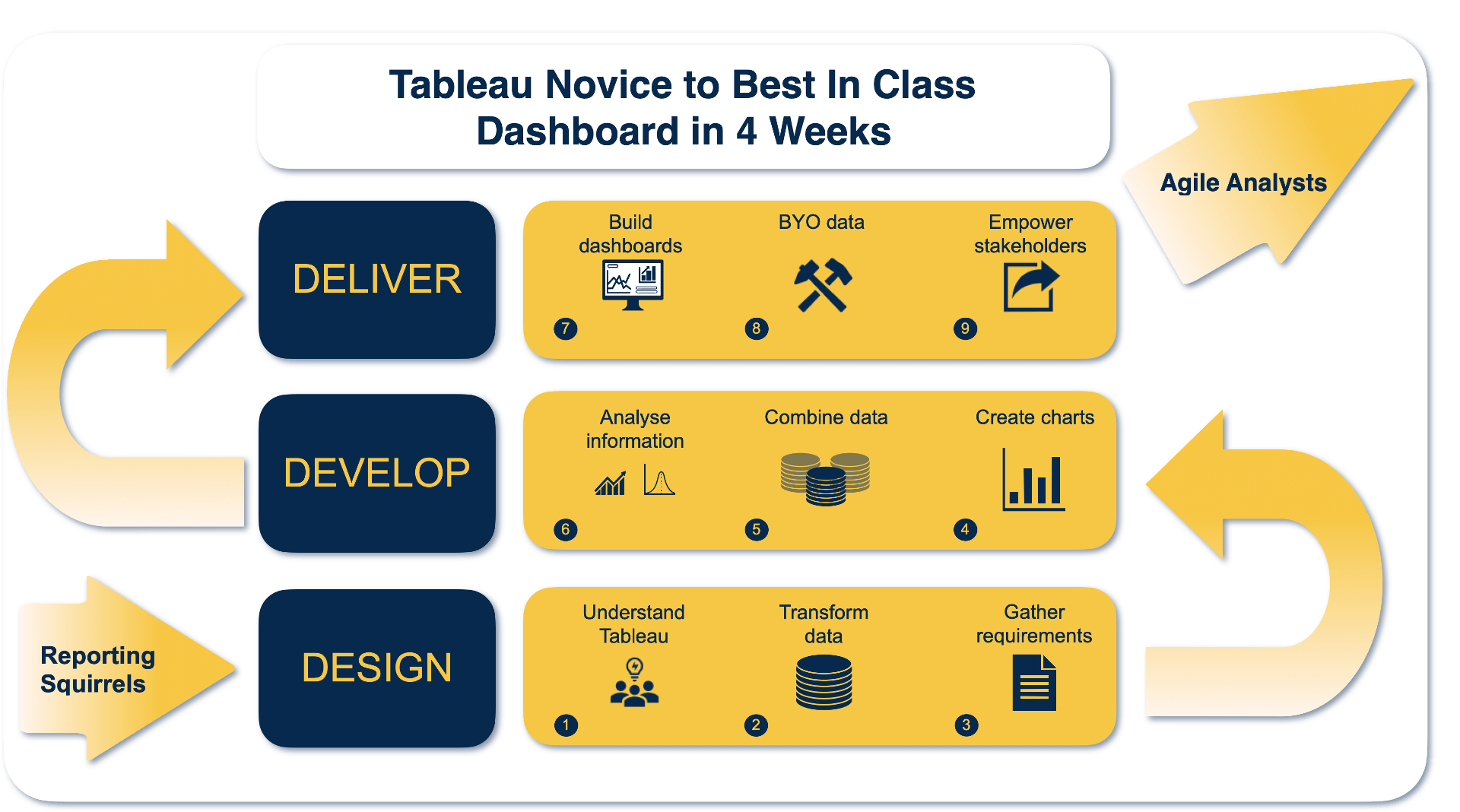 The Summer Bootcamp will cost you just £99 and includes Bonus's worth £1,530 as a massive "Thank YOU" for helping us shape the online-only version correctly.
TABLEAU NOVICE TO BEST IN CLASS DASHBOARDS IN 4 WEEKS PROGRAM
This course will be delivered as an online course, with email support and includes all of the following elements.
Access to all 9 Modules of TToT™️ (Tableau Training on Tap) that transforms you from reporting squirrel to agile analyst


Weekly theory, drip fed
See below for the syllabus

The TToT Development Process™️:

Delivers solutions that reduce ad-hoc requests by meeting users needs quicker
Enables On-Time delivery
Significantly reduces scope creep
Maintains stakeholder engagement throughout
Ensures your users get the most from your dashboards

Exercises for all of the most common tasks in Tableau

Step by step written instructions
Video walk through of each solution
Exercises scheduled daily, in manageable bite-sized chunks

Join our Active community – lifetime membership

LinkedIn Group to ask each other questions and share resources
Engage and collaborate with people on the same journey as you
Daily, Real World use case links to tips and tricks
Walk through of how to use chart templates to save time, improve functionality and deliver quicker insights
Walk thorough of common use cases across multiple industries and functions
Weekly email progress checkpoint
How to get the best from Google searches
Top 10 ways to make great charts that WoW your users whilst improving readability for users who are not trained in data visualization or data literacy
Get the Excel out of here – how to switch from things you do in Excel to doing them quickly in Tableau
Guided tour of the top 5 resources to help avoid performance issues in Tableau
Top tips for using Dashboard containers to build dashboards quicker without spending ages making changes to layouts
A 90 day planning process to implement what you've learnt and to plan in more productivity improvements
12 Months access to all the online content and recording of the live sessions.
HOW MUCH OF YOUR TIME WILL THIS TAKE?
If you play full on and participate in every session and apply every exercise to your own data? We estimate it will be an investment of between 2 to 3 hours each working day during the 4 weeks if you are an absolute beginner. Less if you are already using Tableau.
And if you have more time available? You will end up with a deeper learning experience and more results – and that is dashboards built to meet your needs, with our guidance.
If you take some days out, you should be able to play during or after the bootcamp, as you will have ongoing access to the material for 12 months.
⏭ The end result will be a Dashboard that you deliver, on your own data, that drills down to answer the root-cause questions.
You will be actively encouraged, on a weekly basis, to apply the exercises to your own data and use cases for a deeper learning experience.
The full syllabus you cover is below.
SUMMER BOOTCAMP BETA ATTENDEES ADDITIONAL BONUS'S
For attending the Beta program, that runs from 8th August live for 4 weeks, you also get the following bonus's absolutely free (as a massive thank you for helping us create the perfect online bootcamp course for release later this year).
The Daily Live Tableau Art Of The Possible Guided Tour – WORTH £300

Sessions will be run twice a day to cater for people in different time zones:
08:30 British Summer Time (13:00 India Standard Time)
16:30 British Summer Time (08:30 Pacific Time; 11:30 Eastern Time)
All sessions will be recorded and made available within 24 hours

The Instant Dashboard Starter Template Pack – WORTH £200
The Quickfire Real-World-Issues Troubleshooting Support Program for 1 month – WORTH £200

Answered in Live sessions, by email, by Zoom or by Loom.
Address questions on the theory
Ask questions on applying the theory to your own data and use cases
THE TOTAL BONUS VALUE IS £1,530 ($1,840)
The Desktop specialist Skills Checklist and study guide – WORTH £200
The Find My Problem Tableau Terminology Glossary for Google & Forum Searches – WORTH  £25
The Top 3 Time Saving Extensions Guided Tour & 6 weeks free trial – WORTH £580
The Best Advanced Chart Templates Resource Cheat Sheet – WORTH £25
Peer reviews of your work – PRICELESS
Welcome & Introduction
Why is Visual Analytics important?
Deliverables
Test Drive the Platform
Housekeeping
Your First Assignment
What is possible
How does Tableau deal with data
Know your way around
Review of Type Conversions
Know your way around
How do we format charts
Dashboard basics – My first Dashboard
Connecting to and setting up data in Tableau
Modifying data attributes
How Do I Structure my Data – Groups & Hierarchies, Visual Groups
How Tableau Deals with Dates – Using Discrete and Continuous Dates, Custom Dates
How do I create calculated fields and why? – Creating Calculated Fields, Types of calculated fields, Row Level v Aggregations, Aggregating dimensions in calculations, Changing the Level of Detail (LOD) of calculations – What, Why, How
Brainstorm and assess possible priorities
Pitfalls to avoid
Gather requirements
Charts that Compare Multiple Measures – Measure Names and Measure Values, Shared Axis Charts, Dual Axis Charts, Scatter Plots
Showing progress over time
Creating Tables – Creating Tables, Highlight Tables, Heat Maps
Showing Relational & Proportional Data – Pie Charts, Donut Charts, Tree Maps
Making things dynamic with parameters
Relationships
Joining Tables – Join Types, Joining tables within the same database, cross database joins, join calculations
Blending – How to create a blend with common fields, Custom defined Field relationships and mismatched element names, Calculated fields in blended data sources
Unions – Manual Unions and mismatched columns, Wildcard unions
Data Extracts – Creating & Editing Data extracts
Table Calculations
Sets, Reference Lines, Trends and Forecasting
Answering spatial questions – Mapping, Creating a choropleth (filled) map, Using your own images for spatial analysis, Mapping with spatial files
Advanced charts

Bar in Bar charts
Bullet graphs
Creating Bins and Histograms
Creating a Box & Whisker plot

Viz in Tooltips
Using the Dashboard Interface
Device layouts
Dashboard Actions – Set actions, Parameter actions
Viz in Tooltips for Dashboards
Dashboard containers – Horizontal & Vertical containers, Hidden containers
Navigate between dashboards
Telling data driven stories
Design

Best Practices & Resources
Wireframe templates

Questions
Process
Start building and testing
What is Tableau Server
Publishing & permissions
How can your users engage with content
The Tableau ecosystem
Review your progress
Your next steps