If you find that your team are spending too much time collecting and presenting data rather than being empowered, delivering value to the business by supporting decision making using Tableau, we should talk. " We are simply recreating our old reports in Tableau, rather than using its full potential to ask questions and gain insights" is a typical comment we hear form prospective clients.
EXTEND YOUR KNOWLEDGE OF TABLEAU IN THIS HANDS-ON COURSE
We help teams using Tableau to transform in the following ways :
From a disjointed understanding of Tableau – To being familiar with Tableau terminology and capability
From ad-hoc data uploads and error prone calculations – To reusable data connections and robust metrics
From disjointed stakeholder questions – To clear and concise requirements that lead to decision making
From being unsure how difficult Tableau will be to learn – To being able to develop standard charts and tables in Tableau with dynamic reporting capabilities
From manually combining data for each analytical task – To dynamically combining data from multiple tables for analysis
From being unsure how to answer analytical questions and what options there are – To being equipped with multiple actionable, dynamic, analytical use cases
From not knowing Why, When and How to create Dashboards or Story's – To being able to combine analysis to answer complex questions and tell data driven stories
From using demo data theory – To Delivering value [Answering questions] on their own data
From spending lots of time answering colleagues ad-hoc (data) questions – To empowering stakeholders in answering ad-hoc queries and reducing the time to analyse and steer the business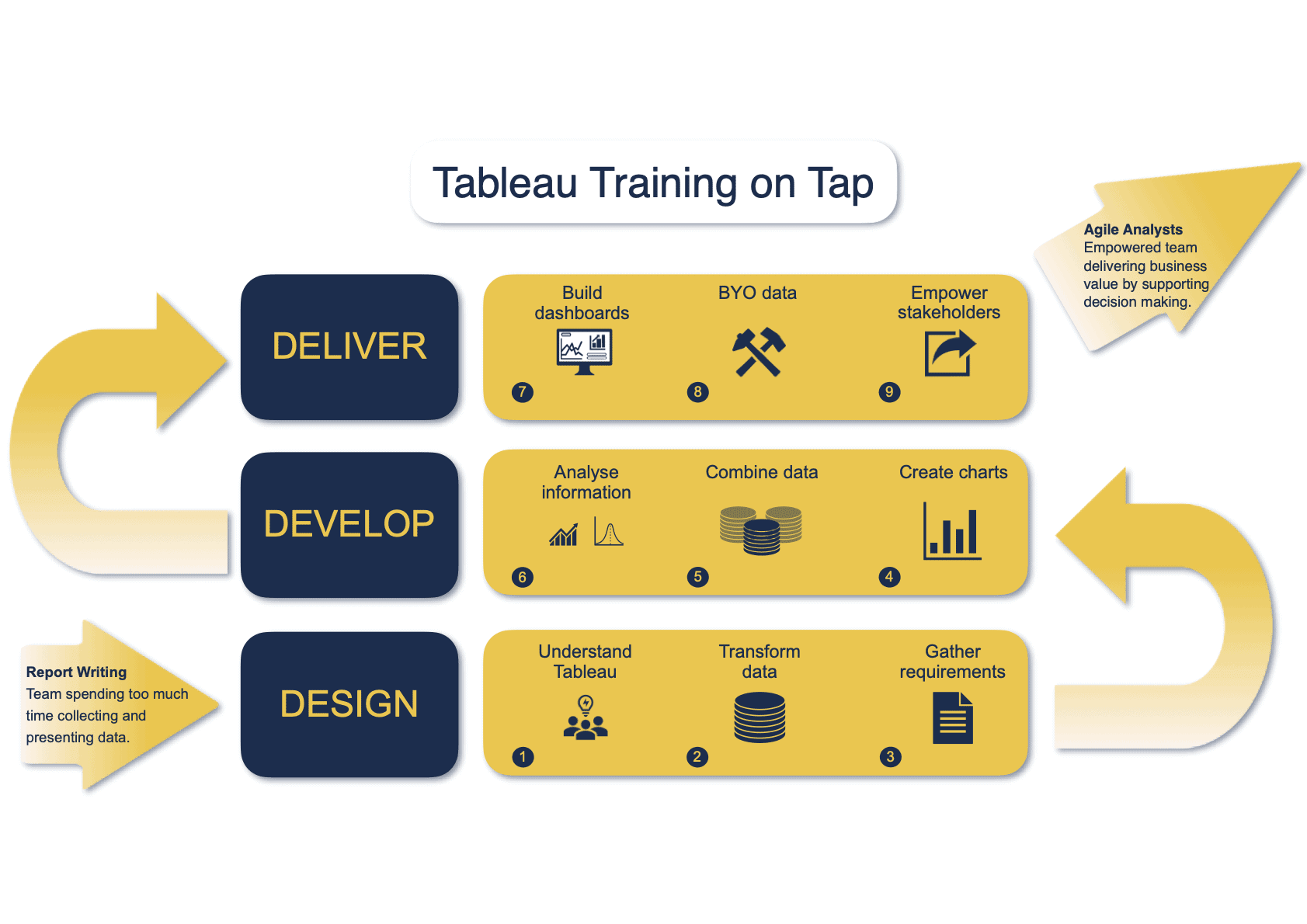 The course includes the following topics:
What is possible
How does Tableau deal with data
Know your way around
Review of Type Conversions
Know your way around
How do we format charts
Dashboard basics – My first Dashboard
Connecting to and setting up data in Tableau
Modifying data attributes
How Do I Structure my Data – Groups & Hierarchies, Visual Groups
How Tableau Deals with Dates – Using Discrete and Continuous Dates, Custom Dates
How do I create calculated fields and why? – Creating Calculated Fields, Types of calculated fields, Row Level v Aggregations, Aggregating dimensions in calculations, Changing the Level of Detail (LOD) of calculations – What, Why, How
Brainstorm and assess possible priorities
Pitfalls to avoid
Gather requirements
Charts that Compare Multiple Measures – Measure Names and Measure Values, Shared Axis Charts, Dual Axis Charts, Scatter Plots
Showing progress over time
Creating Tables – Creating Tables, Highlight Tables, Heat Maps
Showing Relational & Proportional Data – Pie Charts, Donut Charts, Tree Maps
Making things dynamic with parameters
Relationships
Joining Tables – Join Types, Joining tables within the same database, cross database joins, join calculations
Blending – How to create a blend with common fields, Custom defined Field relationships and mismatched element names, Calculated fields in blended data sources
Unions – Manual Unions and mismatched columns, Wildcard unions
Data Extracts – Creating & Editing Data extracts
Table Calculations
Sets, Reference Lines, Trends and Forecasting
Answering spatial questions – Mapping, Creating a choropleth (filled) map, Using your own images for spatial analysis, Mapping with spatial files
Advanced charts

Bar in Bar charts
Bullet graphs
Creating Bins and Histograms
Creating a Box & Whisker plot

Viz in Tooltips
Using the Dashboard Interface
Device layouts
Dashboard Actions – Set actions, Parameter actions
Viz in Tooltips for Dashboards
Dashboard containers – Horizontal & Vertical containers, Hidden containers
Navigate between dashboards
Telling data driven stories
Design

Best Practices & Resources
Wireframe templates

Questions
Process
Start building and testing
What is Tableau Server
Publishing & permissions
How can your users engage with content
The Tableau ecosystem
Review your progress
Your next steps
This training course includes over 60 hands-on exercises and quizzes to help participants "learn by doing" and to assist group discussions around real-life use cases. Each attendee receives a login to our extensive training portal which covers the theory, practical applications and use cases, exercises, solutions and quizzes in both written and video format.
Students must use their own laptop with an active version of Tableau Desktop 2018.2 (or later) pre-installed.
Coronavirus Update (COVID-19)
Our Cancellation policy and commitment to our customers
"BUSINESS AS NEAR USUAL AS POSSIBLE"
In these uncertain times we would like to provide our clients with assurance that we will limit the impact of the above upon your training as much as possible.
As has always been our policy, should you need to cancel your attendance on one of our courses then we will let you attend the next one at your earliest convenience, with no additional cost.
We are currently providing our training courses live online. If this is of interest, please do get in contact.
What People Are Saying About This Course
"I choose Tableau training on Tap because it looked to cover every element of the data journey; it also allowed this be part of the job for a good period of time not just a few days out of the 'office', and they could bring their own data and own requirements to help work these through. This I felt would help to embed their skills naturally and be supported to do this over a good period of time, to help change a culture challenge that we were faced with as described above."
Ella W, Head of Information, NHS
"The flexibility, support model, delivery approach were all perfect in ensuring we received a training solution that was spot on for all of our colleagues, regardless of their personal situation, and it did not tie them to a particular classroom window for the most part which was really important"
Michael C, Senior Manager, Lloyds Banking Group
"…the structure of the course, quality of materials and the ability to really discuss own problems and challenges in a very unpretentious and free way"
Will L, Investment Director, SeaView Position, Company
What delegates say about the programme"The simplicity of the instructions make the online training really easy to follow, unlike a lot of YouTube videos available."
Ellen, Data Analyst
"….the programme is structured to suit differing learning styles. For instance, the training available as a video and in written steps."
Craig, Senior Manager, Reporting and Performance Management, Data Visualisation
"It has been an excellent structured introduction into Tableau. Really highlighting first the analytical capabilities of Tableau, and pushing us in the right direction to start asking questions. I thought Tableau was mainly about dashboards and mis understood the analytical query side of data, which is actually the most exciting part. I never believed it would move me away from Excel but it has to instantly analyse my data."
William, Lead Analyst