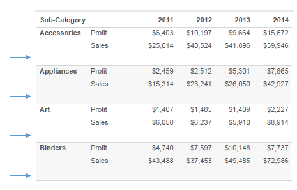 Ever design a table in Tableau and wish you could insert a gap between columns or rows? Maybe you want to show several values, but set one
apart from the others.Or maybe you want to create some space between categories.
Whatever the reason, in some cases, it's actually quite easy. Assuming that you are using Measure Names / Measure Values to define the rows or columns, all you need is a Measure that gives you the "gap".You might think to use a blank string (e.g. ""), but even as a measure (e.g. MIN("")), that can't be added to the Measure Values shelf which only takes numeric values.
You might use NULL, but by itself you can't add that to Measure Values either. The trick, is to cast NULL as a numeric value.