I often discuss collecting stakeholder requirements and the need to understand that you must drill further through the "five whys" before the dashboard users can take action.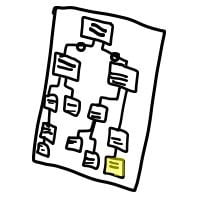 You must provide users with various options to drill down via that process. This will also help improve the efficiency of the pattern and regulation of processes.  Usually, the data determines the answers to those questions; thus, it's essential to have the freedom to direct your users depending on the data's response when this question is posed.
According to John Steinbeck, "An answer is invariably the parent of a great family of questions," and it is the role of the dashboard designer to guide the user through this process so that they may take action or come to a conclusion.
There are several excellent blog entries for each of the below topics, but I thought it would be helpful to compile the top 5 techniques that Tableau offers, which are simple to use and come directly from within the software, to ensure the user gets as close to being able to take action each and every time:
𝐇𝐈𝐄𝐑𝐀𝐑𝐂𝐇𝐈𝐄𝐒. We may construct a drill-down path via numerous dimensions, such as Region —> Segmentation —> Customer, with only a few clicks and drags in the data pane.
DASHBOARD  ACTION FILTERS The ability to filter and browse through many analytical charts combined on a dashboard is robust and enables customers to quickly and easily find answers to complicated issues. Dashboard actions provide a great way to explain business root causes easily. 
𝐕𝐈𝐙 𝐈𝐍 𝐓𝐎𝐎𝐋-𝐓𝐈𝐏   On their own, tooltips allow us to easily deliver insights and more information. They help in providing and collecting information in a very systematic manner and proper way. Diving down further is another benefit of including more analytical charts in the Tooltip. A fantastic example is "who have been the top five customers ordering a particular (loss generating) product."
𝐍𝐀𝐕𝐈𝐆𝐀𝐓𝐄 𝐀𝐍𝐃 𝐅𝐈𝐋𝐓𝐄𝐑 𝐓𝐎 𝐀𝐍𝐎𝐓𝐇𝐄𝐑 𝐃𝐀𝐒𝐇𝐁𝐎𝐀𝐑𝐃. We frequently find dashboards attempting to "be everything to everyone" or load too much information onto them. With the help of this straightforward tool, the user may choose what is crucial and use that information to filter a new dashboard that displays the underlying data. You can easily move to the following dashboard without any restrictions.  Our user can also choose what to filter on and which dashboard to go to by utilizing the "Menu" option inside the filter action. This makes the task more accessible and more smooth. 
5 Use a URL ACTION  to identify where you may act on a third-party web application. (Securely) direct the user to the Purchase in your Accounting information system, the Customer in our CRM, or the Patient information in your PAS so they can immediately rectify the issue.  Nothing brings you closer to taking any action than just this really straightforward yet potent option.
Are there any others that I missed? I look forward to hearing your suggestions.!