Do you find that you ask simple questions…and all too often you get a complex answer?
"Err, I don't have the data for that…give me a couple of days and I'll come back to you…"
Whatever happened to "analytics in the flow"?
This could be down to several reasons. One of them being that the requirements haven't been gathered very well to cater for ongoing ad-hoc requests. (I've talked about that problem in this newsletter edtion – "Can you just put this Excel spreadsheet in Tableau for me ?")
Or it could be that your team haven't been skilled up enough to manipulate the data sources effectively.
It reminds me a little of when I was driving through the Sahara desert in my gap year (yes, I know…a LONG time ago, but an experience I will never forget). It was an old Land Rover we were driving and we had lost reverse gear after driving a little hard over some boulders, but that didn't stop us.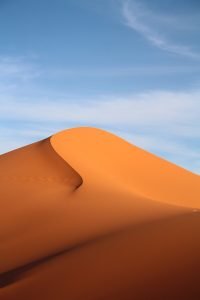 Everything was fine while we were driving through the open desert. No problems! (errr… not strictly true, but that's for another time). Our ambition was to drive through the Sahara desert and getting home was a secondary objective. Who needs reverse?
We hadn't foreseen the issues we would have later, when driving through the busy towns of Tunis or Genoa (Italy) on our way home, where we would get lost on multiple occasions (this was way before Google Maps!).
We'd spent our money enjoying the good times in the desert and our budget and timetable was pushed to the limit…to put it mildly.
When we did go the wrong way, we ended up needing to rely on the locals to push our 2 tonne Land Rover backwards every time. Invariably the "three point turn" had many more turns in the narrow back streets we sometimes found ourselves! Massive respect and graititude for all the help offered willingly by the locals on all those occasions.
Happy days… but a painful limp back through Europe.
WTF? How is this relevant?
Well it's a bit like when you first gather requirements for a dashboard, you focus on your primary objectives, and that includes the data source definition, calculated fields, charts and dashboard use cases….but when you have ad-hoc or follow on questions that veer from the primary use case…
…for example, if your team aren't fluent in joins, blends, unions and relationships (even if its just to be able to talk to the data providers in the same language) – this will lead to "stop / start" analysis and you and your stakeholders will be nearly as frustrated as your dashboard builders.
Hope for the best. Prepare for the worst
Tableau was created to be able to help people see and understand their data and one of the key aspects that is hard-baked into the product is the ability to ask questions visually. This allows analysts to be far more agile and follow through on their natural, inquisitive questions to drill down to the underlying root causes.
The end result is organisations that make better decisions, more frequently.
In this short video I guide you through the five keys to Tableau Analytics in the flow. The five things that you need to know fluently in order to achieve greatness in your analytical journey. To become an Agile Analyst with Tableau.
It's just over 4 minutes long and I explain each point in some detail…but if you are in a hurry, here's the high level:
The right data, shaped well – your analysts either need access to this, or be able to transform it themselves
Make many metrics – not just the KPI's, but also for tables, reference lines, filters and other ways to discover and highlight key insights
Mastery of the Marks Card – a good understanding of how this can be used to encode charts and add layers of detail
Play with the pills, shelves & mark types – we might initially think that a bar chart is the best way to find an insight…but you may want to see how it looks as a scatter plot as well…
Drill down to insights:
Use dashboards – not just as a presentation layer, but also as an analysts tool to answer complex questions, easily
use copy / paste on worksheets – to help document your analytical thinking and leave a path (audit trail) behind as well as save time for additional "forks" in your analysis
So, when equipping your colleagues to become agile analysts, make sure you give them the clarity of approach in their journey. For example, in module 5 of our coaching and support program, we go through all the various ways that Tableau can Combine Data to ensure they understand the nuts & bolts. This equips them for the first key – The right data, shaped well.
It is imperative that your team apply the theory to their own data in a learning environment, where they can make mistrakes and ask questions.
It adds context.
It means they address their actual problems (funnily enough, your real data isn't quite as clean or shaped the same as the Superstore dataset…).
It means applying the theory multiple times – or "doing the reps" – which improves longer term memory recall of the "what" and "how" in Tableau.
Sharon, a graduate of our coaching program, told me that prior to attending our coaching, manipulating data "filled her with dread". I asked what had changed since going through this program:
"Just having that clarity of knowing what approach I need to take."
And confidence and clarity goes a long way to getting the most out of Tableau. To enable your team to do analytics in the flow, getting to root causes much more quickly, and collaborating with your stakeholders to take actions that improve organisational performance.
As always, you can apply these tips to your own learning and development programs. And I would love your feedback and questions.
If you want to know more about how I can guide you and your team to build the confidence and skills that drive improvement, watch my Tableau Training on Tap Discovery Workshop recorded on LinkedIn Live.
Make change happen!